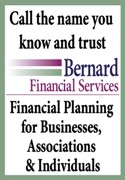 Welcome to the Bernard Financial Services website.  We believe that good financial decisions don't have to be confusing. We can provide simple, proven techniques that can help you make the most of your money in your business, association or personally.
This site will introduce you to our company philosophy and services, and will also offer a wealth of educational materials, articles, newsletters, calculators, and other tools -- all designed to keep you up-to-date on financial issues, strategies and trends. This educational material is updated frequently.

Our planners frequently hold one or more of these professional designations (click on each of the articles to find out what each credential means) :
We really encourage you to visit the About Us section and learn about our Firm, Qualifications, and especially our Services.  There you will gain real insight to important financial planning issues for Businesses, Associations, and Families and Individuals.  Then, call us or click here david@bernardfinancialservices.com and we'll be happy to confidentially discuss your circumstances and opportunities.
If you have any questions or want to schedule a complimentary meeting to discuss your specific questions, you can:
How much life insurance would you need to produce a sufficient income stream for your family?

Use this calculator to determine whether you qualify for the different types of IRAs.

Estimate the potential cost of waiting to purchase a long-term care insurance policy.

How much do you need to save each year to meet your long-term financial goals?