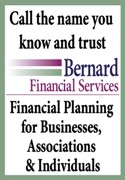 Welcome to the Bernard Financial Services website.  We believe that good financial decisions don't have to be confusing. We can provide simple, proven techniques that can help you make the most of your money in your business, association or personally.
This site will introduce you to our company philosophy and services, and will also offer a wealth of educational materials, articles, newsletters, calculators, and other tools -- all designed to keep you up-to-date on financial issues, strategies and trends. This educational material is updated frequently.

Our planners frequently hold one or more of these professional designations (click on each of the articles to find out what each credential means) :
We really encourage you to visit the About Us section and learn about our Firm, Qualifications, and especially our Services.  There you will gain real insight to important financial planning issues for Businesses, Associations, and Families and Individuals.  Then, call us or click here david@bernardfinancialservices.com and we'll be happy to confidentially discuss your circumstances and opportunities.
If you have any questions or want to schedule a complimentary meeting to discuss your specific questions, you can:
Even if you and your spouse have separate retirement accounts, you may still be able to craft a unified savings and investment strategy.

A glimpse into how blockchain might impact businesses, and a warning for investors to heed the risks associated with blockchain investments.

Younger baby boomers may be facing a more challenging retirement landscape than older members of the generation, according a recent survey.

Find out how and why mergers and acquisitions take place (and why they matter to investors).
This Cash Flow Analysis form will help you weigh your income vs. your expenses.

Estimate how much would remain after paying income taxes and penalties if you took an early distribution from a retirement plan.

Is your personal inflation rate higher or lower than the CPI?

How much Disability Income Insurance do you need?