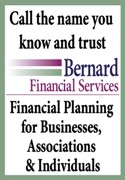 Welcome to the Bernard Financial Services website.  We believe that good financial decisions don't have to be confusing. We can provide simple, proven techniques that can help you make the most of your money in your business, association or personally.
This site will introduce you to our company philosophy and services, and will also offer a wealth of educational materials, articles, newsletters, calculators, and other tools -- all designed to keep you up-to-date on financial issues, strategies and trends. This educational material is updated frequently.

Our planners frequently hold one or more of these professional designations (click on each of the articles to find out what each credential means) :
We really encourage you to visit the About Us section and learn about our Firm, Qualifications, and especially our Services.  There you will gain real insight to important financial planning issues for Businesses, Associations, and Families and Individuals.  Then, call us or click here david@bernardfinancialservices.com and we'll be happy to confidentially discuss your circumstances and opportunities.
If you have any questions or want to schedule a complimentary meeting to discuss your specific questions, you can:
Millennials, Gen Xers, and baby boomers face different challenges in pursuing retirement goals. This article offers strategies to help address them.

A look at the U.S.-China "skinny" trade deal and the U.S.-Mexico-Canada Agreement, and their potential impact on consumers and the U.S. economy.

The difference between a money-losing business and a hobby matters at tax time. This article presents IRS criteria for making the distinction.

Do you know which factors influence bond yields and why the gap between short- and long-term yields is often viewed as an economic indicator?
Estimate of the maximum amount of financing you can expect to get when you begin house hunting.

Calculate the rate of return you would have to receive from a taxable investment to realize an equivalent tax-exempt yield.

Will you be able to afford nursing home care?

How much would your monthly lease payment be?